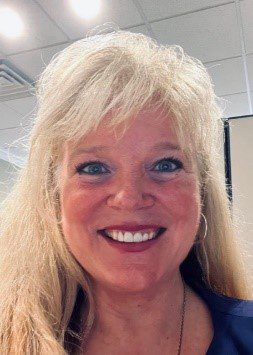 Sheila Graves, LMSW, LCSW(s)
Williamsburg Intensive Outpatient Therapist at The Farley Center
Sheila comes with an array of life & career experience that's led her to make the decision to go back to college at 38 y/o to become a LCSW Therapist.  She chose the University of Denver's clinical adult mental health & addiction track to earn a MSW in 2010.  Sheila is a native of central CA, is the youngest of 3 children w/a 28 y/o daughter, Erika, who lives in Portland, OR.  She's over the moon proud of her daughter & in awe in her grace/courage in living freely in the LGBTQia2+ community.  Last year, Erika earned her Masters in Counseling from Leslie University in Boston.
At 56, Sheila has lived, loved and faced life's harsh realities, bittersweet lessons & figuring out how to re-raise herself & break the cycle of violence, mental health and addiction generations deep in her family.  Sheila was 10 y/o when her mother became addicted to prescription opioid pain meds, benzos & alcohol following back surgery in 1976.  Tragically, 25 yrs. later, Sheila's mother overdosed on a refill of morphine tablets after she'd run out 3 days earlier.  Her mother died at 63 y/o on Mother's Day 2001, weighing 85 lbs. w/a 43 yr hx as a victim of verbal, emotional, sexual & financial domestic violence perpetrated by Sheila's father.    
Sheila's innate curiosity about human behavior & figuring out why she was "less than" other little girls, teens & often ostracized by adults.  "I wasn't much of a land mammal w/sports but put me in a swimming pool & I leveled the playing field."  It wasn't from hard work or perseverance; it was from my family's gene pool of strong hardy German farmers.  By 12 I was nationally ranked & at 15 I missed the Olympic trials by less than 2 tenths of a second.  By 16, my emotional brokenness was no longer covered up by talent and I lost interest.  I sought the external validation from sex, being someone's girlfriend & became a 'right fighter' w/power & control issues normalized by my father.  I was bulimic, pregnant twice by 19, kicked out of the house, disowned by my father & dabbled w/cocaine, meth & alcohol to fit in & feel good." 
Sheila has worked at UCHSC Psychiatric Dept's ARTS Long-Term Intense Residential AOD Therapeutic Community treatment modality for dual dx women in the CO criminal justice & child protection systems.  As the admissions coordinator, she became the liaison w/Colorado's Prisons, County Jails, Comm Corrections, Probation & Drug Courts.  Sheila subscribes to Gestalt, Humanistic & Behaviorism theory of practice with a Person-Centered approach to therapy.  She is well-versed in relationship attachment theory, childhood trauma affect in adults, ADHD, eating & personality disorders.   Sheila's passion is to shorten the learning curve on the relationship between cause, effect & consequences growing up in dysfunctional family structures, oppressed/privileged cultural norms & trying to navigate societal expectations…………"when all we want is to love/be loved, valued, ease the burden of others & find passion/purpose to our lives."
Little tid-bits
Swam Alcatraz
Swam 5k in Siesta Keyes
Lived in CA, CO, AZ, WA & OR. Moved to VA in 11/2018
Won't ever jump out a plane, bungee jump or rock climb.
Divorced daughter's father in 2007.
Married 2nd time in 2020 to Greg Harris, Senior Sherriff's Deputy for James City County
Crazzzzzzzy about Puffins w/bucket list trip to Maine in 2024 to see.
Have 17 y/o kitty Chloe w/no tail.
Have 9 y/o dog Caroline.
Nicknamed "The Pill" as a toddler cuz I got into everything & had to be watched, put in play-pen or strapped down in my carrier all the time.
Love math, analyzing spread sheets, finding patterns and +/- change.
Did masters research project on Seeking Safely program & ran multiple closed group w/curricula.
Certified Dementia Consultant through Positive Approach to Care. Opened Williamsburg Dementia Consulting – When Opal Smiles in 2021.
Was working on my CAC 3 in 2012 but let it go when I became a Probation Officer for specialized domestic violence caseload.
Owned a 2017 Harley Davidson soft tail motorcycle.
Completed Olympic length Triathalon
Huge follower of Christian Leader Joyce Meyer (over 20 yrs)
Purchased 3rd home in my lifetime in 2022 in Williamsburg.
I find peace & joy in water puddles, streams, ponds, lakes, rivers & oceans……………… and lots of leafy trees, moss & boulders.